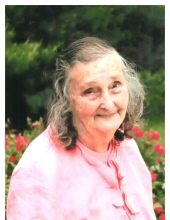 Obituary for Georgia Elizabeth Barker
Georgia E. Walton Barker, age 90, born August 18, 1931, departed this life for her Heavenly home February 14, 2022. She had lived in Estill Co. all her life. She was a member of the South Irvine Pentecostal Church of God. She loved God and spending time with her family. She was an avid quilter.
She was the daughter of the late Luther & Viola Robertson Walton and was the wife of the late Silas H. Barker. She is survived by:
13 children: Elizabeth A. Freeman - Beattyville
Cathy Shepherd & companion, James Richardson - Mt. Vernon
Frances V. Walsh - Rockledge, FL
Judy M. McKinney (Glen) - Irvine
Sarah R. Brinegar (Kenny) - Irvine
Mary Sue Brinegar (Shirley) - Richmond
Martha L. Brinegar (Ralph) - Richmond
Virginia L. Embree (Roger) - Richmond
Carolyn F. Bishop (Mark) - Irvine
Silas David Barker - Irvine
Michael P. Barker (Milandia) - Irvine
Owen J. Barker (Rebecca) - Irvine
R. Joy Brown (Fred) - Irvine
1 brother: Earl Walton (Frances) - Richmond
1 sister: Mary J. Overbay - Richmond
Son-in-law: Doug Kirby
Special granddaughter: Judy Francis Bryant
Special grandsons: Mark Anthony Tubbs and Chad Tubbs
32 grandchildren, 38 great grandchildren, 16 great-great grandchildren, a host of nieces and nephews
She was preceded in death by 2 brothers, James W. Walton, Charles F. Walton, 3 stepdaughters, Norma L. Walton (Jim), Provie M. Kirby, Mary L. Shrader (Rodney), 4 sons-in-law, Billy Freeman, Jr., Gerald R. Walsh, Martin Bryant and Ralph Brinegar.
Funeral services will be conducted Friday, February 18, 1 PM at the Warren F. Toler Funeral Home Chapel with Bro. Ethan McKinney and Bro. Greg King officiating. Burial will be at the Walton Cemetery. Visitation will be held Friday from 11 AM to 1 PM Friday at the Funeral Home.