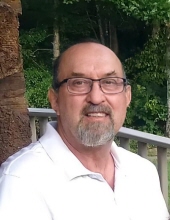 Obituary for James Earl Woolery
James Earl Woolery, age 66. of 9650 McKee Rd in Irvine Ky, passed away Friday, August 20th, at his home with his children and wife by his side after a short illness. James was born May 6, 1955 and was the son of the late Horace and Rachel Kirby Woolery.
James was survived by his wife of 34 years, Sherry Carroll Woolery. Two children, Kimberly Marie Woolery of Stanford Ky, Joseph Earl Woolery of Irvine Ky. Three Grandchildren Katlyn Coleman of Stanford Ky, Rachel Brown of Lancaster Ky, Parker Woolery of Irvine Ky. Three Siblings, Imogene Goosey of Irvine Ky, Lloyd/Margie Woolery of Irvine Ky, William/Linda Woolery of Irvine Ky.
He was a former welder at Ajax in Madison Co. He was the owner of Bybee Grocery in Madison Co. from 1986/2003. He also worked at Nacco in Berea Ky. At the end of his life, he was an over the road truck driver. He was a member of the New Antioch Church in Lancaster Ky.
Memorial services will be held for James at Calvary Baptist Church 21 Glory St Irvine Ky Thursday August 26th. Visitation with the family 4 to 6 pm memorial service at 6:00 pm with a bereavement meal provided by Calvary Baptist in the Fellowship Hall.
James would have wanted everyone to come share the meal with his family and share their stories of him.