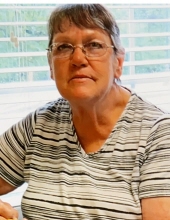 Obituary for Nancy Alice Brinegar
Nancy Alice Stringer Brinegar, age 70, of Grindstone Road in Irvine, passed away Tuesday, March 30, at her home, following a short illness. She was born October 9, 1950, in Dayton, OH, a daughter of the late Reginald and Dorothy Cayton Stringer. She was a homemaker and had lived in Estill County most of her life where she attended the Calvary Baptist Church. She was preceded in death by her Husband, Ellis Brinegar. She is survived by:
4 Daughters: Lanette Calhoun Alabama
Patricia Hall Madison Co.
Lori Smith Fayette Co.
Amy Rall Ohio
2 Sons: James Nelson Calhoun Ohio
Ellis Brinegar Jr. Montgomery Co.
A Sister: Gayle Marsh Ohio
2 Brothers: Reginal Stringer Ohio
Jerry Stringer Ohio
Several Grandchildren Several Great Grandchildren
Memorial services will be held at a later date. The Warren F. Toler Funeral Home is in charge of arrangements.