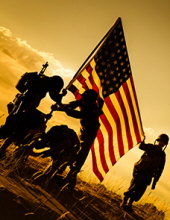 Obituary for Ronnie Lee Criswell
Ronnie Lee Criswell, age 71, of Berea passed away Thursday, October 8, 2020, at the Veterans Administration Medical Center following a short illness. He was born August 9, 1949 in Monticello and was the son of Doris Criswell Tucker and the late Lyle Dolen Criswell. He was a retired United States Marine who served during the Vietnam War. Survivors in addition to his mother include:
His wife: Ima Joyce Lowe Criswell
1 daughter: Carrie (Mitch) Hofmeister - Michigan
2 sons: Michael (Angie Skaggs) Criswell - Ohio
Kyle (Lori) Criswell - Pennsylvania
3 stepdaughters: Glenova Wiseman - Berea
Marshal Riddell - Berea
Rebecca (Eddie) Negron - Berea
1 sister: Jill Criswell - Monticello
2 brothers: Steve Criswell - Monticello
Larry Criswell - Monticello
7 grandchildren, 7 step-grandchildren, 3 great grandchildren
He was preceded in death by 4 siblings, Janet Hardy, Pamela Criswell, Dale Criswell and Boyce Ray Dick.
Visitation will be held between 6 and 9 PM Monday at the Warren F. Toler Funeral Home. Private funeral services will be conducted with burial at the Kirby Cemetery.