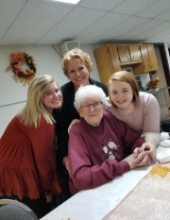 Obituary for Wilma Jo Parsons
Wilma Jo "DaDa" Parsons, age 84, of South Madison Avenue in Irvine, passed away Friday, March 24, 2023, at the Marcum & Wallace Memorial Hospital following a long illness. She was born December 20, 1938, in Estill County and was the daughter of the late Oscar and Effie Clem Cooper. She was a retired Okonite Cable Company employee and a member of the First Baptist Church. She was a Kentucky Colonel and a past president of the American Legion Ladies Auxiliary. She was preceded in death by her husband, Vernon Parsons, and is survived by:
2 daughters: Lisa Jo Cooper - Estill Co.
Amy Darlene Rogers - Boyd Co.
2 sons: Jeffery Wayne Cooper - Estill Co.
Jerry Parsons - Estill Co.
2 sisters: Virginia Withers - Estill Co.
Nancy Rhodes - Estill Co.
1 brother: Ray Cooper - Clark Co.
5 grandchildren: Allison Wolf, Hallie Nunn, Russell Rogers, Travis Cooper, and Jerry Lynn Parsons
4 great grandchildren: Kayda Cochran, Abigale See, Timothy Johnson, and Jerah Parsons
She was preceded in death by 1 grandchild, Kayla Cochran, 3 sisters, Katie Hill, Clara Henry, Minnie Sanders and 5 brothers, Henry "Hoss" Cooper, William Cooper, Owen Cooper, Billy Cooper, and Arthur Lee Cooper.
Funeral services will be conducted Monday, March 27, 1 PM at the Warren F. Toler Funeral Home. Visitation will be held on Monday from 11 AM to 1 PM.