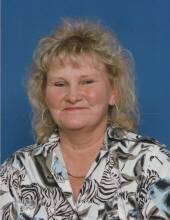 Obituary for Wilma Lois Young
Wilma Lois Young, age 76, of Barnes Mountain in Irvine, passed away Saturday May 28, 2022, at the Compassionate Care Center in Richmond following a long illness. She was born March 2, 1946, and was the daughter of the late Robert and Lillie Angel Cox. She retired from Kroger where she worked in the deli, and she had lived in Estill County all her life. She is survived by:

2 sons: Jason (Rebecca) Young - Estill Co.
Jackie (Heather) Young - Estill Co.

In addition to her parents, she was preceded in death by her brother, Robert Cox Jr. and her grandchild, Dustin Young.

Graveside services will be conducted Tuesday 12 PM at the Estes Cemetery. The Warren F. Toler Funeral Home is in charge of arrangements.