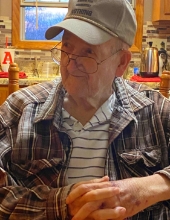 Obituary for William Russell Abney
William Russell Abney, age 80, of Red Lick Road in Irvine, passed away Monday, April 10, 2023, at his home following a long illness. He was born December 23, 1942, in Estill County and was the son of the late Hobert and Opal Stamper Abney. He retired from Advance Auto Parts and was a member of the Fitchburg Masonic Lodge. He had lived in Estill County all his life. He is survived by:
3 daughters: Angela (Steve) Lunsford - Estill Co.
Debbie McIntosh - Estill Co.
Donna (Dwayne) Bingham - Estill Co.
1 son: Tony (Melva) Abney - Estill Co.
7 grandchildren: Kelby (Breanda) Browning, Kyle (Amanda) Smyth, Tyler (Amanda) Jordan, Justin (Crissy) Bingham, Jamie (Whitney) Bingham, and Crystal Young
15 great grandchildren
In addition to his parents, he was preceded in death by his wife, Charlotte Hill Abney, 1 sister, Elizabeth Watson, and 1 grandchild, Aaron Jordan.
Funeral services will be conducted Friday, April 14, 11 AM at the Warren F. Toler Funeral Home Chapel. Burial will be at the Cobb Hill Cemetery. Visitation will be held on Thursday, April 13, from 6 to 9 PM. Masonic Rites will be performed at 7 PM on Thursday at the Funeral Home.
Pallbearers: Greg Stamper, Kenny Stamper, Kelby Browning, Kyle Smyth, Tyler Jordan, Justin Bingham, and Jamie Bingham
Honorary Pallbearers: His great grandchildren