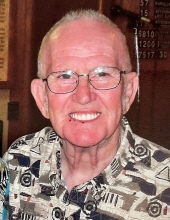 Obituary for William Luther Elliott Jr.
Bro. William Luther Elliot Jr., age 88, of Greens Crossing Rd in Richmond, passed away Monday, February 28, 2022, at Baptist Health in Lexington following a short illness. He was born January 16, 1934 in Harlan County and was the son of the late William Luther and Nancy Ann Morris Elliott. He was a retired machine operator for Scanpac and was a member of the Pine Hill Baptist Church. He had lived in Madison County for most his life. He is survived by:

His wife: Ruth Spurlock Elliott
1 son: Denny Ray Elliott (Carolyn) - Tennessee
1 brother: Allen Elliott - Louisiana
3 grandchildren: Rebecca Lynn Holman (Chris), Heather Renee Tumey (Jamie) and Jonathan David Elliott (Chelsea)
11 great grandchildren: Toshia, Lexie, Tyler, Maddie (Pancake), Gabriel, Isaiah, Jaden, Cami, Xander, Shelby and William

In addition to his parents, he was preceded in death by 5 sisters, Emma Jenn Howard, Mary Nell Walker, Inez Brindley, Juanita Brown and Ella Belinda Jones and 3 brothers, Harry, Darriel and Benny Elliott.

Funeral services will be conducted Friday, March 4, 1 PM at the Victory World Outreach Church Center in Richmond with Rev. Chris Holman Officiating. Burial will be at the Flatwoods Cemetery. Visitation will be held Friday from 11 Am to 1 PM at the church.

Pallbearers: His grandchildren and great grandchildren.