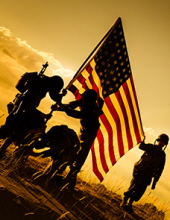 Obituary for William Franklin "Bill" Baber
William "Bill" Franklin Baber, age 93, of Hudson Avenue in Irvine, passed away Saturday, January 19, 2019, at his home. He was born September 10, 1925 in Estill County and was the son of the late J. W. "Bill" and Cora Wise Baber. He was a retired Kroger employee and a member of the Irvine Nazarene Church where he served as Sunday School Superintendent for 53 years. He was a World War II veteran of the United States Navy and Army Air Corp. He was a charter member of the VFW Post 8019 and a lifetime member of the American Legion. He was preceded in death by his wife, Mary Robertson Baber. He is survived by:
1 Daughter: Nancy (John) Sullivan - Anderson, SC
1 Son: Bruce (Lisa) Baber - Estill Co.
Daughter-in-law: Carolyn Baber - Estill Co.
Son-in-law: Mike Richardson - Madison Co.
9 Grandchildren: Jami Powell, Amanda Hall, Tyler Baber, Colby Baber, Josh Baber, Michael Shanken, Patrick Shanken, Ashley Richardson, Ryan Richardson
8 Great Grandchildren: Derryk Shanken, Meaghan Shanken, Lyndsi Powell, Cody Powell, Braden Hall, Blake Hall, Dalton Shanken and Adalynn Richardson
Several nieces and nephews
Close friend: Paul Taylor
He was preceded in death by 1 daughter, Jeanette "Jan" Marie Richardson, 2 sons; James "Jim" Franklin Baber and Phillip "Frankie" Scott Baber, 2 sisters; Eva Lou Dawes and Beulah Baber and 3 brothers; Alonzo "Buddy" Baber, L.J. Baber and Jessie Baber.
Funeral services will be conducted Tuesday, January 22, 2 PM at the Irvine Nazarene Church by Bro. Curt Napier and Bro. Matthew Marshall. Burial will be at the Sunset Memorial Gardens. Friends may call between 6 and 9 PM Monday, January 21, at the Warren F. Toler Funeral Home and after 11 AM Tuesday at the Irvine Nazarene Church.