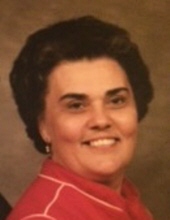 Obituary for Wavlene Dunaway
Wavlene Dunaway, age 82, of Wall Street in Irvine passed away Sunday, June 9, 2019, at the Compassionate Care Center following a short illness. She was born October 4, 1936 in Estill County and was the daughter of the late Elva and Mary Clark Wise. She was a member of the River Drive Christian Church and retired as secretary for the Church. She had lived in Estill County most of her life. She is survived by:
Her husband: Damon G. Dunaway
1 Daughter: Angela (Robbie K.) Hall - Campbell Co.
1 Son: Garry D. Dunaway - Estill Co.
4 Sisters: Lynda (Montie) Parks - Estill Co.
Thelma Dunaway - Madison Co.
Mary (Harry) Fox - Estill Co.
Elfreeda Wickizer - Jessamine Co.
1 Brother: Alonzo (Margaret) Wise - Ohio
9 Grandchildren: R. Kent Hall, Ryan Hall, Cody Hall, Christina Webb, Natalie Dunaway, Joseph Dunaway, Travis Dunaway, Eric Dunaway and Russell Dunaway
7 Great Grandchildren: Avae Hall, Cora Hall, Ellena Dunaway, Elijah Webb, Trace Webb, Colton Webb and Maizy Dunaway
She was preceded in death by 1 son, Jeff Dunaway, 3 sisters; Opal C. Critchfield, Chrystal Ashcraft, Allene Wise and 2 brothers; Wilbert E. Wise and Jim Wise.
Memorial services will be conducted Thursday, June 13, 5:30 PM at the River Drive Christian Church by Bro. Paul Groves. Friends may call between 3:30 and 5:30 PM Thursday at the River Drive Christian Church.
If you are considering a donation in lieu of flowers, the following have touched our family. A donation to any of these would be a gift that keeps giving or as some would say "Pay It Forward": Air1 or K-Love Radio, Susan G. Komen/Breast Cancer Foundation, Great Strides Cystic Fibrosis Foundation/Cora's Crew or the River Drive Christian Church.