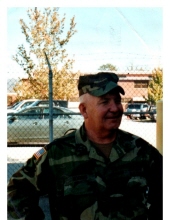 Obituary for Walter Reed Morris, Jr.
Walter Reed "Walt" Morris, Jr., age 71, of Winchester Road in Irvine, passed away Monday, May 18, 2020, at the University of Kentucky Hospital following a long illness. He was born July 22, 1948 in Bourbon County and was the son of the late Walter Reed and Lottie Bell Ginter Morris. He was retired from the United States Army and was also retired from the Fed-X Corporation. He was a member of the Ivory Hill Baptist Church, the American Legion and was a Kentucky Colonel. He is survived by:
His wife: Boneva Bogie Morris
4 daughters: Carla (Danny) Arthur - Scott County
Angela Williams - Virginia
Beverly Kadle - Estill County
Glenda (Carl) Mack - Scott County
2 sons: W.L. Morris - Ohio
Brian (Annie) Abney - Texas
2 sisters: Barbara (Travis) Kennon - Clark County
Brenda (Donald) Brooks - Estill County
8 grandchildren: Johnathan Arthur, Jessica Kadle, Peyton Morris, Preston Morris, Jessica Williams, John Williams, Kelly Williams and Sarah Williams
Several great grandchildren
Friends may call between 6 and 9 PM Thursday, May 21, from 6-9 PM at the Warren F. Toler Funeral Home. Private funeral services will be conducted.
In lieu of flowers, donations are suggested to St. Jude Children's Hospital.