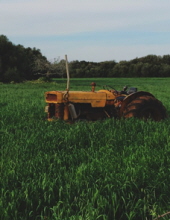 Obituary for Wallace Charles Taylor
Wallace Charles Taylor, age 58, of Pryse Road in Irvine, passed away Friday, June 26, 2020 at the Marcum and Wallace Hospital following a long illness. He was born April 25, 1962 in Estill County and he was the son of the late William Calvin "Tucker" and Lelia Tipton Taylor. He was a farmer and retired Estill County Judge. He lived in Estill County all his life. He is survived by:

His wife: Cathy Ranae Lawson Taylor
1 Daughter: Charleston Jo (Chad) Neal - Estill Co.
1 Son: Wallace Chandler (Sarah) Taylor - Estill Co.
1 Sister: Sue Carol Beckley - Estill Co.
6 Grandchildren: Cali Griffith, Cole Griffith, Charley Taylor, Fisher Neal, Jonah Neal, and Conner Taylor
1 Nephew, L.W. Beckley

He was preceded in death by 1 brother, William Calvin Taylor, Jr., and 1 nephew, Chad Beckley.

Friends may call Tuesday, June 30, 6-9 PM at the Warren F. Toler Funeral Home Chapel. Private funeral services will be held.

In lieu of flowers, donations are suggested to WCKY Camp Mariposa.