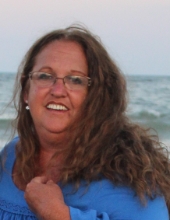 Obituary for Virginia Rae Caldwell
Virginia "Jenny" Rae Caldwell, age 67, of Irvine, KY passed away peacefully surrounded by her family on Tuesday, March 7, 2023, after a short illness.
She was born on November 20, 1955 in Richmond, KY to Omer and Ruby Caldwell. Jenny is survived by her two sons: Roger Jason Gabbard (Margi Lindon) of Campton, KY and Michael Wilson Gabbard of Georgetown, KY. She had a special granddaughter, Kennedy Jae Gabbard, that was the light of her life. She is also survived by one sister, Nancy Ann Tipton, of Irvine, KY; Sisters-in-law: Frances Caldwell of Irvine, KY and Malinda Caldwell of Broadhead, KY and a host of other relatives and special friends.
Jenny was a loving Mother, Grandmother, Sister, Aunt, Great Aunt, Cousin and Special Friend. She graduated from Lee County High School. She was a spot welder for 37 years at Trane Company of Lexington, KY where she retired in 2016. Jenny had an outgoing personality and loved to make people laugh. Her smile and ability to tell stories and cut up were only a few of her amazing qualities. Jenny was a member of Faith Baptist Church in Crystal, KY. She had an exquisite voice and loved to sing and make the piano "ring" at church. She also enjoyed singing and playing the guitar at family gatherings. Jenny loved her family and friends dearly and was known as the "Matriarch" of the family. She was overjoyed when watching her granddaughter cheer at ballgames and competitions. She also enjoyed going to yard sales to find the best bargains.
She is preceded in death by her parents: Omer and Ruby Caldwell, five brothers: Darrel, Bobby, Jerry, Kenneth and Gary.
Funeral services will be conducted Sunday, March 12, 2 PM at the Warren F. Toler Funeral Home Chapel with Bro. Paul Hubbs officiating. Burial will be at the Cobb Hill Cemetery. Visitation will be held on Sunday from 12 to 2 PM.
Serving as pallbearers: Jason Gabbard, Perry Caldwell, Devin Caldwell, Eric Caldwell, Ronnie Abney and Edward Tipton. Serving as honorary pallbearers: Donnie Caldwell, Bobby Dean Caldwell, Billy Gene Caldwell, Chris Caldwell, David Caldwell and Paul Samples.