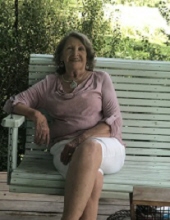 Obituary for Virginia Lee Ormes
Virginia Lee Ormes, age 76, of Old Fox Road in Irvine, passed away Monday, December 27, 2021, at the Compassionate Care Center following a short illness. She was born March 6, 1945 in Estill County and was the daughter of the late Lee Vernon and Della Mae Means Brooks. She attended the Kingdom Hall of Jehovah's Witnesses and had lived in Estill County all her life. She was devoted to her family. She was preceded in death by her husband, Billy Riley Ormes, Sr. and is survived by:
3 daughters: Rose Marie (Mark) Finlayson - Estill Co.
Mary Lee Ormes - Estill Co.
Jennifer Lorine Ormes - Bourbon Co.
2 sons: Billy (Aimee) Ormes, Jr. - Estill Co.
Johnny Dee (Patty) Ormes - Estill Co.
1 sister: Lillian Tubbs - Bourbon Co.
2 brothers: Orville Brooks - Estill Co.
Donald Brooks - Estill Co.
12 grandchildren and 12 great grandchildren
She was preceded in death by 3 sisters, Ella Faye Jackson, Loretta Brooks, Ugetta Brooks and 2 brothers, Billy and Johnny Brooks.
A memorial service will be conducted Saturday, January 15, 11 AM at the Warren F. Toler Funeral Home.
In lieu of flowers, donations are suggested to the Compassionate Care Center, 350 Isaacs Lane, Richmond, KY 40475.