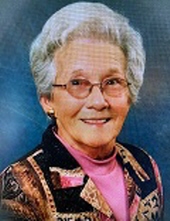 Obituary for Vada Rea Abshear
Vada Rea Abshear, age 91, a resident of The Willows at Citation Drive in Lexington passed away Tuesday, November 17, 2020, at Baptist Health in Lexington following a short illness. She was born October 4, 1929 in Dayton, Ohio and was the daughter of the late Earl Raymond Howell and Lelah White Williams Howell. She was a retired Kroger employee and a member of the River Drive Christian Church. She was preceded in death by her husband, Cleveland Brown Abshear and is survived by:
3 daughters: Deborah Ann Calvert - Lexington
Marthalyn Brown Blythe - Lexington
Lisa Carol Ransdell - Lexington
1 sister: Shirley Hellmueller - Ft. Myers, FL
6 grandchildren
She was preceded in death by 5 siblings, Mary "Kay" Christopher, Wilda Elliott, Wilma Woodley, Chock Howell and Bill Howell.
Visitation will be held Friday 11 AM to 12 PM at the Warren F. Toler Funeral Home. Graveside services will be conducted Friday, November 20, 12 PM at the Sunset Memorial Gardens.