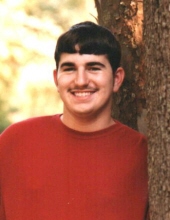 Obituary for Tommie DeWayne Conrad
Tommie DeWayne Conrad, age 36, of Eli Sparks Road in Irvine, passed away Tuesday, April 13, 2021, at the University of Kentucky Hospital following a long illness. He was born June 9, 1984 in Madison County and was the son of Gary DeWayne and Leasa Chrisman Conrad. He received a Bachelor's Degree in Psychology and a Master's Degree in Library Science Management from the University of Kentucky and was a published author and former employee of the University of Kentucky Medical Library. He was of the Christian faith and had lived in Estill County all his life. Survivors in addition to his father and mother include:
His grandfather: Charles Chrisman - Estill Co.
Special grandparents: Van & Sharon Johnson - Tennessee
Aunts & uncles: Nathan & Shelia McIntosh, Verlin Conrad, Jenny Conrad, Orvin & Judy Conrad, Calvin Conrad, Mickie Conrad, Elaine Angel and Stanley Kelly
Cousins: Jolene & Ricky Fox, Sonya Sutton, Showna Angel, Jody (Elizabeth) Conrad, Michele Riddell, Traci Conrad, Melessa Fields, Autumn Fox, Jalia McIntosh, Bonnie Spottek, Tina Turner and Tralee Conrad
Special aunt & uncle: Johnny & Susan Johnson
Several other cousins
Visitation for the public will be held Friday, April 16, from 6 to 9 PM at the Warren F. Toler Funeral Home. Private funeral services will be conducted by Bro. Randall Calico with burial at the Conrad Cemetery.