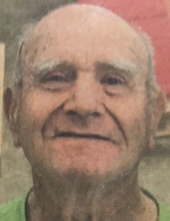 Obituary for Thomas Gene Hughes
Thomas Gene Hughes, age 83 of Red Lick Road, Irvine, KY went to be with Jesus on October 12, 2019 at the Compassionate Care Center in Richmond, KY after a battle with cancer. He was born August 31, 1936 in Estill County where he lived all his life. He was the son of the late Ernest Ralph Hughes and Pashie Alice Reed Hughes.
Gene worked as a carpenter and construction worker and he retired from American Tobacco Co. He loved the outdoors and spent many hours doing gardening and yard work. He also loved to travel, camp, and chat with his neighbors. He was a faithful member of the Cow Creek Presbyterian Church in Booneville, KY.
He was preceded in death by his brothers, Darrell Leon Hughes and Lawrence Edward Hughes. He is survived by his wife of 60 years, Jeanette Moore Hughes, his sisters-in-law, Juanita Hughes and Marsha Hughes, Alma Click (Danny), Joyce Begley (Ronnie Paul), Donna Stenberg (Mark). Brothers-in-law include Ronnie Moore (Judy) and Shelby Moore (Bernetta). Surviving nieces are Darvell Hughes Webster, Shanna Hughes Reeder, Sarah Stenberg Dahlmeier, Jennifer Moore Hall, Angela Moore Aldran and Krista Moore. Surviving nephews are Eddie Hughes, Steven Begley, Stuart Begley, Jonathan Taylor, Brian Moore, Travis Stenberg, a special cousin, Louise Reed Woolery along with several great nieces and nephews. He was dearly loved and will be missed by all.
Funeral services will be conducted Wednesday, October 16th at Toler Funeral Home Chapel at 1:00 p.m. with Brother Terry Sandlin officiating. Visitation will be from 10:30-1:00. Burial will be in Sunset Memorial Gardens, West Irvine.
Pall bearers are: Howard Rogers, Bill Beard, Charlie Taylor, Jonathan Taylor, Danny Click, Ronnie Paul Begley, Jerran Webster, Brian Reeder, Eddie Hughes and Eddie Woolery. Honorary pallbearers are: Elders and members of the Cow Creek Presbyterian Church plus all great nieces, nephews and cousins.
Memorials may be made to the Compassionate Care Center in Richmond, KY or the Cow Creek Presbyterian Church in Booneville, KY.