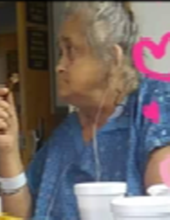 Obituary for Tammy Lynn Grace
Tammy Lynn Grace, 60, of Turpin Drive in Richmond, passed away Tuesday, September 21, 2021, at her home. She was born June 18, 1961 in Cleveland, Ohio and was the daughter of Mattie Stepp McGee and the late Joseph Eugene McGee. She was a member of the Calvary Baptist Church and had lived in Estill County most of her life. Survivors in addition to her mother include:
2 daughters: Misty Dawes - Richmond
Meca Harvey - Irvine
1 son: Billy McGee - Louisville
1 brother: Robert McGee - California
7 grandchildren: Isaiah Harvey, Thomas Dawes, Janet Harvey, Alex Dawes, Jose Dawes, Daniel Bledsoe and Marissa Perez
1 great grandchild: Jocelyn Sue Harvey
2 nieces: Tammy Baker and Ellie McGee
3 nephews: Larry Smith, Michael Baker and Aaron Baker
She was preceded in death by her birth parents, Charles and Patricia Dial Smith, and 3 siblings, Darlene Baker, Christopher McGee and Patrick Smith.
Funeral services will be conducted Saturday, September 25, 1 PM at the Warren F. Toler Funeral Home Chapel. Burial will be at the West Irvine Cemetery. Visitation will be held Saturday from 11 AM to 1 PM at the Funeral Home.