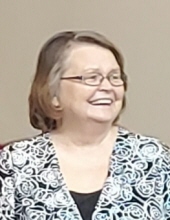 Obituary for Sylvia Ann Mullins
Sylvia Ann Mullins, age 69, of Bertha Wallace Drive in Irvine, passed away Tuesday, April 13, 2021, at the Baptist Health Lexington Hospital. She was born December 30, 1951 in Estill County and was the daughter of the late Alphus Rogers and Eldena Hall Martin. She was a retired Carhartt, Inc. employee and was a member of the New Vision Full Gospel Church. She had lived in Estill County most of her life. She is survived by:
Her husband: Elmer Dale Mullins
2 daughters: Veronica (Ronald) Lay - Irvine
Cassie (Steven) Roberts - Irvine
3 stepchildren: Melinda (Bill) Crawford - N. Kentucky
Tommy (Robin) Mullins - N. Kentucky
Darrin Mullins - Clay City
3 sisters: Geneva Townsend - Beattyville
Imogene Shepherd - N. Kentucky
Judy Lovely - Mt. Sterling
2 brothers: Jearl Rogers - Clay City
Lonnie Rogers - Mt. Sterling
3 grandchildren: Nicholas Lay, Jacob Roberts and Nathan Lay
3 step-grandchildren: Tommy Dale Mullins, Nicole Hudson and Jeremy Crawford
4 honorary children: Julie Estes Vires, Rebecca Turner, Betsy Moreland and Mike Estes
7 honorary grandchildren: Lilyann "Gracie" Estes, Ethan Estes, Isaiah Estes, Blake Turner, Austin Lay, Austin McIntosh and Cameron Combs
Many nieces and nephews
A Celebration of Life Service will be held on Saturday, April 24, 1 PM at the New Vision Full Gospel Church. The Warren F. Toler Funeral Home is in charge of arrangements.
In lieu of flowers, donations are suggested to the building fund at the New Vision Full Gospel Church, 300 5th Street, Ravenna, KY 40472.