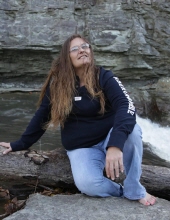 Obituary for Shonna Denal Rogers
Shonna Denal Brandenburg Rogers, age 47, of Garrett Avenue in Irvine, passed away Thursday, January 7, 2021, at the Jewish Hospital in Louisville. She was born January 6, 1974 in Madison County and was the daughter of Rebecca Neal Staton and the late Jerry David Brandenburg. She attended the Turning Point Apostolic Church and had lived in Estill County most of her life. Survivors in addition to her mother include:
2 daughters: Kiesha Reeder - Frankfort
Shelby Adams - Madison Co.
2 sons: Johnathan Barrett - Estill Co.
Jacob Rogers - Frankfort
Special niece: Amanda Neal
1 sister: Tina Schureck - Estill Co.
3 grandchildren: Wendell, Olivia and Charlie Barrett
She was preceded in death by her grandmother, Pearline Neal and her half-sister, Jamie Snowden.
Memorial services are not scheduled at this time. The Warren F. Toler Funeral Home is in charge of arrangements.