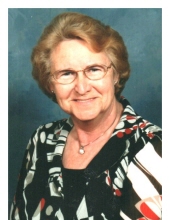 Obituary for Shirley May Warner
Shirley May Warner, age 85, of Berea, Kentucky, widow of Charles William Warner, passed away Monday, June 28, 2021 at the home of her daughter, surrounded by her loving family. Shirley was born July 31, 1935 in Cincinnati, Ohio to the late Arthur and Gladys May Needom Erkenbrecher. Shirley was a homemaker, a devout Christian, and a member of the Bethel Christian Church on Old Fox Road in Irvine. She lived in Irvine most of her life. She loved watching old movies and cooking for her family that she was especially proud of. She is survived by her daughter, Sue Tompkins (Ray) of Berea; one granddaughter, Denise Ballard (Mike) of Richmond; three grandsons, Ronnie Rice, Jr. (Lisa) of Berea, Ramey Tompkins of Berea, and John Warner, Jr. of McKee; six great grandchildren, Ramah and Larah Ballard, Mikayla Ayala (Noe), Tanner, Tailor, and Bailee Rice; one great-great grandchild, Ava Ayala; and four sisters, Mary Sosnowski, Genny Chapman, Billie Mitchell, and Jo Vickery. In addition to her parents, she is preceded in death by her husband of 33 years, Charles William Warner; one son, John Leroy Warner; three brothers, Sonny, Wendell, and Donnie Erkenbrecher; and one special nephew, Ricky Erkenbrecher.
Visitation will be held Friday, July 2, 2021 between 6:00 pm and 9:00 pm at the Warren F. Toler Funeral Home, 99 Cedar Grove Road, Irvine, Kentucky 40336. Funeral services will be held Saturday, July 3, 12 pm at the funeral home with granddaughter Ramah Ballard to give the eulogy. Graveside services will follow in the Pilot Knob Cemetery, 1147 Pilot Knob Cemetery Road, Berea, KY 40403. Pallbearers will be Noe Ayala, Mike Ballard, Ronnie Rice, Jr., Tanner Rice, Eric Shoopman, and Ramey Tompkins. Honorary pallbearers will be Donnie Erkenbrecher, Jr., Jimmy Erkenbrecher, Larry Freeman, Jason Mitchell, Ray Tompkins, Charles Warner, and Wayne Warner.