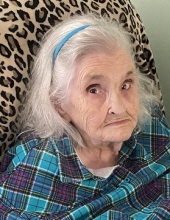 Obituary for Sarah Angline Riddell
Sarah Angline Riddell, age 99, of Goodrich Avenue in Lexington, passed away Thursday, November 10, 2022, at her home following a short illness. She was born June 12, 1923, in Estill County and was the daughter of the late Ben and Laura Stanley Perry. She was a retired employee of the Veterans Administration Hospital and had lived in Fayette County most of her life. She is survived by:
1 daughter: Laura Faye Johnson - Jessamine Co.
3 sons: Tony Marshall Riddell - Jessamine Co.
Roger Allen Riddell - Jessamine Co.
James Benny Riddell - Jessamine Co.
20 Grandchildren and several great and great-great grandchildren
She was preceded in death by her husband, Elmer Riddell, 1 daughter, Doris Marie Riddell, and 6 sons, Earl Douglas Riddell, David Wayne Riddell, Elmer Riddell, Jr., Danny Dale Riddell, Bobby Joe Riddell, Kirt Douglas Riddell and several brothers and sisters.
Funeral services will be conducted Monday, November 14, 1 PM, at the Warren F. Toler Funeral Home Chapel with Bro. Ruford Abney officiating. Burial will be at the Pea Ridge Cemetery. Visitation will be held Sunday from 6 to 9 PM at the Funeral Home.
Pallbearers: Marshall Riddell, Doug Riddell, Stanley Riddell, Andy Riddell, Benji Riddell and Tom Johnson
Honorary Pallbearers: Tom Riddell, Brad Riddell, Michael Riddell and Zach Johnson