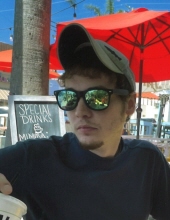 Obituary for Samuel "Sammy" Dwayne Travis
Samuel "Sammy" Dwayne Travis, age 30, of Autumn Leaf Drive in Richmond, passed away Saturday, February 4, 2023, at the Baptist Health Hospital in Richmond following a short illness. He was born November 5, 1992, in Fayette County and was the son of Dwayne Travis of Irvine and Sherry Lynn Willis of Richmond, formerly of Irvine. He was a graduate of Estill County High School, class of 2011. Sammy loved animals, especially his 3 cats, Dutchess, Hermione, and Bully. Sammy was an avid reader. He loved books even before he could read. He was a lover of music, movies, and anime. He was a self-proclaimed music and movie critic.
In addition to his parents, he is survived by 1 sister, Callie Sonora Barnett of Richmond, and 2 brothers, Joshua (Kassidy) Earlywine and Jarred (Marissa) Earlywine, both of Paris. 2 nieces, Oaklee Earlywine and Paisley Bailey, both of Paris, 2 nephews, Sutton Earlywine and Payson Earlywine of Paris. He was an uncle to two special little guys, Waylon Noland and Michael Childers. A stepmother, Rayne Earlywine of Paris. A maternal grandmother, Wilma Willis, of Irvine, and a step grandmother, Wanda Willis, also of Irvine. Paternal grandparents, Merle and Loretta Travis of Irvine. Several aunts, uncles, and cousins. Sammy had lots of friends. He never met a stranger.
He was preceded in death by his maternal grandfather, Farrell Willis of Irvine. Maternal great grandparents, Elmo and Lucille Townsend of Irvine, and Marion Willis and Bessie Willis of Irvine. Paternal great grandparents, Edward and Bea Travis of Irvine, and Samuel and Nannie Embs of Irvine. He was also preceded in death by his best friend, Obie Noland, of Irvine.
Funeral services will be conducted Wednesday, February 8, 11 AM at the Warren F. Toler Funeral Home Chapel. Visitation will be held Tuesday from 6 to 9 PM at the Funeral Home.
In lieu of flowers, donations are suggested to the Estill County Animal Shelter.