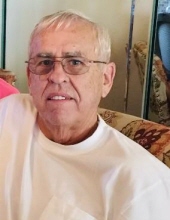 Obituary for Sam Brewer, Jr.
Sam Brewer Jr., husband of Shirley Robinson Brewer for 56 years passed peacefully at his residence after a hard-fought battle of pancreatic cancer on Sunday, August 8, 2021 surrounded by those he loved dearly. Sam would have been 81 years of age on August 19, 2021.

Besides his loving wife Shirley, he is survived by two sons – Brian Brewer of Irvine and Phillip Brewer and wife Han of Yorktown, Virginia. Two devoted grandsons – Jacob Brewer FCA-2 of the United States Navy stationed in Norfolk, VA and Matthew Brewer of Yorktown, Virginia.

Sam was a native of Jackson County, KY and grew up with 10 siblings; two surviving siblings are; Lloyd Brewer of Ft. Myers, FL and Mary Jane Winstead Jones of Berea, KY. He is also survived by a host of nephews and nieces whom he loved dearly as they did him.

He was preceded in death by his parents Sam and Gracie Maupin Brewer, 6 brothers –
Billy Paul Brewer, Clyde Brewer, Cecil Brewer, Lewis Brewer, Clifton Brewer, Dewey Brewer, JH Brewer and 1 sister Olga Brewer Allen.

Sam worked diligently & retired after 30 years for IBM – Lexmark. Throughout the years of his work career, he served in the KY House of Representatives for his district for 2 terms and also served as a board member for the Estill County Board of Education. He leaves behind many dear friends that still treasure his friendship.

Sam loved his family. He loved visiting and just taking Shirley rides throughout the countryside to reminiscence about times long gone. Sam and Shirley enjoyed many winters in Ft. Myers, FL. He leaves behind Florida friends that loved him for his kindness that he always exhibited in daily life.

Sam loved his church and church family. He attended the Emmanuel Baptist Church of Irvine, KY.

Funeral services will be held at the Warren F. Toler Funeral Home in Irvine, KY. Visitation will be on Thursday, August 12, 2021 from 6:00-9:00. Sam was a member of the Masonic Lodge and served as a Mason for 40+ years. Masonic rights will be held Thursday 8 PM. The funeral will be held on Friday at 12:00 PM at the funeral home. Burial will be in the West Irvine Cemetery.
Pallbearers will be his grandson Jacob and Sam's nephews.