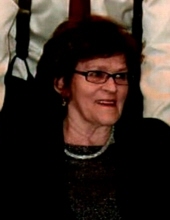 Obituary for Ruth Ann Kearns
Ruth Ann Kearns, 77, of Irvine passed away Saturday, October 17 at Baptist Health in Richmond after a short illness. She was born in Hazel Green in Wolfe County but lived in Estill County most of her life. She retired from the VA Hospital where she worked as a switch board operator for many years. She also worked at Carhartt for many years as well. Kentucky River Foothills was also a place employment that she held very dear to her heart.
Ruth Ann was preceded in death by her parents Jesse and Lena Lane Taulbee VanCleve and a brother Jesse Raymond VanCleve. She was survived by 2 daughters Cheryl Hill (Bobby Welch) and Donna Kearns. And her son Chris Kearns (Rachel).
Ruth Ann was also survived by 2 brothers William Carter VanCleve (Anna Ruth) and Rondell VanCleve, as well as 7 grandsons Kaleb Estes, Elijah Stevenson, Devan Doty, Andrew Doty, Lane Doty, Owen Kearns, Noah Kearns, and a great grandson James Russell Doty. She also had a very special niece Tina VanCleve Hix (Jeff).
A memorial service will be held on Friday, October 23, at the Warren F. Toler Funeral Home. Visitation will begin at 12 noon with service to follow at 1:00 PM for all family and friends.