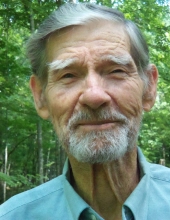 Obituary for Russell James Hunt
Russell James Hunt, age 83, of Watson Ridge Road in Ravenna, passed away Sunday, October 3, 2021, at the University of Kentucky Hospice Care Center. He was born April 28, 1938 in Estill County and was the son of the late Harlan and Rachel Arnold Hunt. He moved to Ohio at the age of 3 and came back to Estill County 18 years ago. He lived most of his married life in Monroe, Ohio. He was a charter member of the Monroe Church of the Nazarene. He worked in drafting and tool design and retired from GE in Cincinnati.
Russell was a lifelong artist painting mostly landscapes and places of local history. His painting of the Fitchburg Furnace is at the Estill County Historical and Genealogy Society. Clay City's Red River Historical Society and Museum also have 2 of his paintings. Glady Visitor Center in Red River Gorge has had several of his paintings on display since 2008.
He married his wife, Patti Downing Hunt, on October 5, 1963. Survivors in addition to his wife include:
His daughter: Debbie (Matthew) Hafley - Union, KY
His son: Jon (Ginger) Hunt - Grand Rapids, OH
5 grandchildren: Jessie Hunt, Adrienne Hafley, Cassie Hafley, James Hunt and Lily Hafley
1 sister: Lavada Hunt Hursell - Fairfield, OH
3 sisters-in-law: Inez Williams Hunt - Hamilton, OH
Dee Downing Birkholz - Miamisburg, OH
June Downing Deaton - Miamisburg, OH
His lifelong friends: David & Carolyn Lee - Irvine
Many nieces and nephews
He was preceded in death by his parents, 3 brothers, Ernest Hunt, Harlan Hunt, Jr. and Lee Hunt and 1 sister, Margie Hunt Rogers.
A memorial service will be held Saturday, October 16, 1 PM at the Warren F. Toler Funeral Home with Bro. Terry Barnes and Bro. John Anderson officiating. Visitation will be held that Saturday from 12 Noon until 1 PM at the Funeral Home.
In lieu of flowers, please donate to your local food bank.