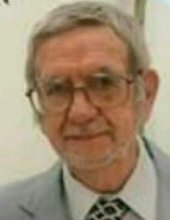 Obituary for Russell Charles Harper
Russell Charles Harper, age 89, of Canewood Drive in Winchester, passed away Thursday, February 21, 2019, at his home following a sudden illness. He was born August 10, 1929 in Bath County and was the son of the late John Ernest and Nancy Hawkins Harper. He retired from City Roofing in Elkhart, Indiana as a roofer. He was a United States Marine veteran of the Korean conflict and a member of the American Legion. He is survived by:
His wife of 72 years: Eva Howard Harper
4 Daughters: Linda Martin - Indiana
Carolyn Geil - Estill Co.
Candice Means - Fayette Co.
Kayla Harper - Estill Co.
3 Sons: Gary Harper - Estill Co.
Mark Harper - Jefferson Co.
Joshua Harper - Clark Co.
Special granddaughter: Dawn Day - Estill Co.
1 Sister: Gladys Barbee - Indiana
1 Brother: Kenneth Harper - Clark Co.
20 Grandchildren 38 Great Grandchildren 9 Great-Great Grandchildren
He was preceded in death by 1 daughter, Connie Harper, 1 son, Rick Harper, 2 sisters; Margie Pervis and Sadie Cassidy and 3 brothers; James Thomas Harper, Floyd Harper and John Harper, Jr.
Funeral services will be conducted Monday, February 25, 1 PM at the Warren F. Toler Funeral Home Chapel by Bro. Paul Day Sr. Burial will be at the Harper Cemetery. Friends may call after 12 PM Monday at the Warren F. Toler Funeral Home.