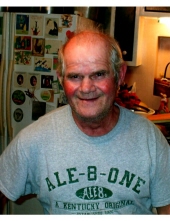 Obituary for Roger Dun Dawes
Roger Dunn Dawes, 69, of Dark Hollow Road in Irvine passed away Saturday, November 21, 2020 at his home following a long illness. He was born October 8, 1951 in Estill County and was the son of the late Orville and Anna Mae Farthing Dawes. He had been a construction worker all his life and was a member of the Irvine Masonic Lodge. He was also a former member of the National Guard. He is survived by:
His wife of 49 years: Sheree Harrison Dawes
1 daughter: Aimee (Beattle) Ormes - Estill Co.
1 son: Roger Bryan (Cathy) Dawes - Estill Co.
2 sisters: Doris Harrison - Estill Co.
Marlene Rawlins - Estill Co.
1 brother: Norman Dawes - Madison Co.
4 grandchildren: Jacob Cantrell, Kolby Dawes, Tatum Cantrell and Jacquee Cantrell
He was preceded in death by 1 grandchild, Kaydi Jo Dawes and his brother, Orville Wayne Dawes.
Graveside services will be conducted Tuesday, November 24, 12:30 PM at the Wood Cemetery by Bro. Glyndon Woosley. The Warren F. Toler Funeral Home is in charge of arrangements.
Pallbearers: Bryan Dawes, Shawn Dawes, Danny Hoover, Ronald Rawlins, Smokey Woods, Steve Harrison and Josh Harrison
Honorary Pallbearers will be the employees of Burger Barn, the employees of Meade's Do It Center, his friends at Hardee's, his friends at Concrete Materials, members of the Masonic Lodge, and the Georgia Gang.