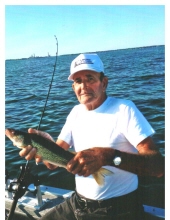 Obituary for Robert Cecil Burns
Robert Cecil Burns, age 80, of Wagersville Road in Irvine, passed away Sunday, April 11, 2021, at his home following a long illness. He was born June 8, 1940 in Estill County and was the son of the late Robert Leo and Madoline Hall Burns. He was a lifelong farmer and a member of the Estill County Agriculture Hall of Fame. He was also a retired police officer with the Irvine Police Department, a former deputy sheriff, served two terms as an Estill County Magistrate and worked as a crossing guard for the Estill County School System. He was a member of the Emanuel Baptist Church and had lived in Estill County all his life. He is survived by:
His wife: Beverly Ann Lansaw Burns
2 daughters: Tammy (Dan) Andrews - Fayette Co.
Etta (Anthony) Bush - Estill Co.
2 sons: David (Peggy Lynn) Burns - Estill Co.
Dennis (Cathy) Burns - Madison Co.
3 sisters: Shelia Sparks - Estill Co.
Peggy Chaney - Estill Co.
Flona Linderhoff - Madison Co.
11 grandchildren and 11 great grandchildren
He was preceded in death by 1 sister, Betty Fowler.
Visitation for the public will be held Tuesday, April 13, from 6 to 9 PM at the Warren F. Toler Funeral Home. Private funeral services will be conducted by Bro. Sherl Thomas with burial at the Sparks Cemetery.
Pallbearers: Greg Arvin, Stuart Arvin, Brent Arvin, Gerald Flynn, Charles Lancaster and Dennis Burns, Jr.