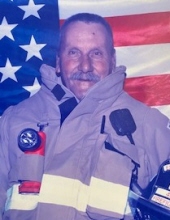 Obituary for Ricky Maurice Chaney
Ricky Maurice Chaney, age 61, of Walton Road in Irvine, passed away Friday, November 12, 2021, at the Baptist Health in Richmond following a short illness. He was born August 27, 1960 in Estill County and was the son of the late Arthur and Bobbie Walton Chaney. He was truck driver and a member of the Estill County Rescue Squad and the Estill County Fire Department. He had lived in Estill County all his life. He was preceded in death by his wife, Linda Lou Estes Chaney, and is survived by:
1 son: Edmund Walker Chaney
1 sister: Michelle (Ritchie) Crowe - Estill Co.
1 brother: Kevin L. Chaney - Estill Co.
3 grandchildren: Andrew Dalton Chaney, Chancie Marie Chaney and Edmund Walker Chaney Jr.
Special nephew & niece: Austin and Macayla Mosley
Graveside services will be conducted Tuesday, November 16, 10 AM at the Walton Cemetery with Bro. John Isfort officiating. The Warren F. Toler Funeral Home is in charge of arrangements.