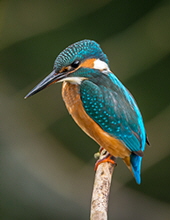 Obituary for Ricky David Richardson
Ricky David Richardson, age 53, of Blackburn Road in Irvine, passed away Tuesday, May 4, 2021, at his home. He was born January 6, 1968 in Estill County and was the son of Barbara Goosey Richardson and the late Elwood Richardson. He was a bricklayer and attended the Substation Pentecostal Church. He had lived in Estill County all his life. He was preceded in death by his wife, Danielle Harrison Richardson. Survivors in addition to his mother include:
2 sons: Brandon Keith Richardson - Estill Co.
Nicholas Richardson - Corbin
1 brother: Gregory Richardson - Estill Co.
1 grandchild: McKinley Sparks
Niece and nephew: Alexandria Lee and Grant Richardson
Memorial services will be held at a later date. The Warren F. Toler Funeral Home is in charge of arrangements.