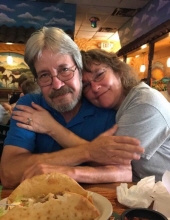 Obituary for Rickie Lee Ruble
Rickie Lee Ruble, age 62, of Red Lick Road in Irvine, passed away Thursday, October 10, 2019 at his home. He was born August 14, 1957 in Madison County to the late Rollie Ruble and Irene Phillips Ruble. He was a former Tool and Die Manufacturer for P.K. Tools. He lived in Estill County most of his life. He is survived by:

His Wife: Linda Michelle McGee Ruble - Estill Co.
1 Daughter: Stacy Lee (Anthony) Alexander - Estill Co.
2 Sons: Rickie Todd Ruble - Estill Co.
Wm. Joel (Leann) Ruble - Estill Co.
3 Sisters: Linda Nicholson
Grace Ruble
Patty Skirvin
6 Grandchildren: Justina Ruble, Raleigh Ruble, Payton Alexander, Anthony "Tony Lee" Alexander, Kaylee Ruble, and Kaleb Ruble

He is preceded in death by several brothers and sisters.

Funeral services will be conducted Saturday, October 12, 1 PM at the Warren F. Toler Funeral Home Chapel by Bro. Delmer McGee. Burial will follow in the Ruble Cemetery. Friends may call after 10:30 AM Saturday at the funeral home.