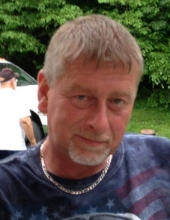 Obituary for Randy Dennis Puckett
Randy Dennis Puckett, age 59, of Eades Drive in Irvine, passed away Sunday, March 26, 2023, at the St. Joseph Hospital following a long illness. He was born January 26, 1964, in Estill County and was the son of Tony Puckett and Gearl Dean Osborne Puckett. He had served in the National Guard and was a member of the American Legion and the VFW. He was an employee of KY Eagle Inc. and attended the Emanual Baptist Church. He had lived in Estill County all his life. Survivors in addition to his father and mother include:
His wife: Deborah Lee Qualls Puckett
1 daughter: Staci (Justin) Puckett-Riddell - Estill Co.
1 son: Randy Kyle Puckett - Estill Co.
4 stepchildren: Jessica Green - Madison Co.
Josh Green - Madison Co.
Jeremy Green - Estill Co.
Jacob Green - Clark Co.
1 sister: Tricia (John) Henry - Estill Co.
6 grandchildren, 2 great grandchildren, and several nieces & nephews
Funeral services will be conducted Thursday, March 30, 11 AM at the Warren F. Toler Funeral Home Chapel. Burial will be at the Willie Puckett Cemetery. Visitation will be held on Wednesday from 6 to 9 PM.