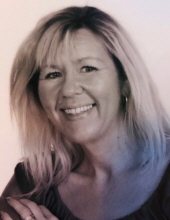 Obituary for Quenna Sue Gentry
Quenna Sue Gentry, age 50, of London Dock Road in London, passed away Thursday, July 25, 2019, at the University of Kentucky Medical Center following a long illness., She was born August 4, 1968 in Hyden, KY and was the daughter of Velma Jean Morris Hafley and the late Billy Harold Bowman. She was a homemaker and had lived in Estill County most of her life. Survivors in addition to her mother include:
2 Daughters: Evangeline Faith Lee - Laurel Co.
Elizabeth Danielle Banks - Estill Co.
5 Step-Daughters: Christy Alvey - Indiana
Cheyenne Gentry - Indiana
Bridgette Gentry - Indiana
Destiny Gentry - Indiana
Hope Gentry - Indiana
2 Sisters: Delia Henry - Estill Co.
Lara Rochelle Hafley - Lee Co.
2 Brothers: Billy Harold Bowman, Jr. - Lee Co.
John Bowman - Lee Co.
Stepfather: Fred Hafley
7 Grandchildren: Kaidence Heavyn Lee, Landon Pierce Gentry, Ryan Walter Terry Cowquill, Benson Keith Kelly, Kyra Danielle Sky Dixon, Peyton Jean Dixon and Breanna Alvey
Several nieces and nephews
She was preceded in death by her son, Skyler Andrew Shelton, 1 brother, Nicholas Seth Hafley and 1 grandchild, Johnathon Edward Charles Dixon.
Funeral services will be conducted Tuesday, July 30, 1 PM at the Irvine First Church of God by Bro. David Adams and Bro. Hunter Fraley. Burial will be at the Puckett Cemetery. Friends may call between 6 and 9 PM Monday at the Warren F. Toler Funeral Home and after 12 PM Tuesday at the Church.