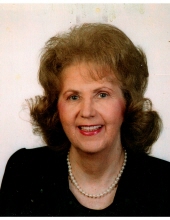 Obituary for Peggy Bonny Garrett
Peggy Bonny Garrett, age 85, of Geneva Avenue in Irvine passed away Monday, October 12, 2020, at the Willows at Hamburg. She was born November 3, 1934 in Moberly, Kentucky and was the daughter of the late Arthur Ellis and Myrtle Vinada Clouse Bonny. She was a retired music teacher with the Estill County School System and a member of the Irvine First Christian Church. She was also a member of the Woman's Club, Kentucky Teacher's Retirement Association, Kiwanis Club, and the Kentucky Colonels. She performed with the Lexington Singers for over 30 years and belonged to the American Organist Guild. She was preceded in death by her husband, Lawrence Mason Garrett. She is survived by:
Her daughter: Bonny Clouse (William) Caudill - Irvine
2 grandchildren: Bonny Jean Caudill and Will Caudill
1 brother: James Bonny - Ohio
She was preceded in death by 9 siblings: Lucille Bonny, Florence Bonny Hall, Ann Bonny Stickley, Jeanette Bonny King, A.W. Bonny, Bill Bonny, Ed Bonny, Thomas Bonny and Gene Bonny.
Visitation will be held Friday, October 16, from 10:30 AM to 1 PM at the Warren F. Toler Funeral Home. Private funeral services will be conducted by Pastor Jim Bonny with burial at the Richmond Cemetery.
In lieu of flowers, donations are suggested to the Peggy Bonny Garrett Senior Music Award at the Estill County High School.