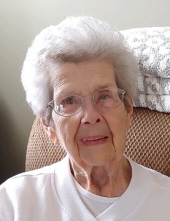 Obituary for Pauline Oaks Witt
Pauline Oaks Witt, age 94, of Estill Avenue, Irvine, KY, passed away on Saturday, October 8, 2022, at the Irvine Nursing & Rehabilitation Center after a long illness. She was born July 7, 1928, in Lee County. She was the daughter of the late Troy and Bertha Yeary Oaks. She retired from North American Phillips (formerly Westinghouse) in Richmond. She was a dedicated member of the Irvine First Church of God.
She is survived by:
3 sons: David Alan (Donna) Witt - Irvine
Arthur Wayne Witt - Irvine
Dale Blair (Betsy) Witt - Bellbrook, OH
9 grandchildren: Jamie Witt, Erica Mitchell, Lindsey Trent, Lucas Witt, Suzanne Witt, Danielle Witt, Nathan Luebke, Elizabeth Evans and Brennan Luebke
10 great grandchildren and 4 great-great grandchildren
2 special friends: Alice Henry and Brenda Isaacs
She was preceded in death by her husband, Estill Hayden Witt, one son, Glenn Thomas Witt, 2 grandsons, Gabriel Aaron Witt and Joshua Ray Witt, 5 brothers, Oral, Elbert, Roy, Troy and Oliney Oaks, 4 sisters, Ella Coomer, Illa Schmunk, Opal Smoot and Edith Oaks.
Funeral services will be conducted Wednesday, October 12, 11 AM at the Warren F. Toler Funeral Home Chapel with Bro. Glennis Sizemore and Bro. Eric Patrick officiating. Burial will be at the West Irvine Cemetery. Visitation will be held Tuesday from 6 to 8 PM at the Funeral Home.
Pallbearers: Jamie Witt, Lucas Witt, Suzanne Witt, Chris Mitchell, Logan Trent, Jacob Tuttle, Brennan Luebke and James "Porky" Hamilton
Honorary Pallbearers: Troy Coomer, Russell "Wayne" Coomer, James "Edward" Oaks and Jimmy Smoot