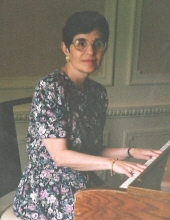 Obituary for Patricia Killian Rose
Patricia Killian Rose, age 78, wife of Jerry Glenn Rose of Lexington passed from her earthly life September 25, 2022, due to complications from Lewy body dementia, and into the arms of her Lord and Savior Jesus Christ in Heaven. She was a native of Russell County, KY, grew up in Cedar Grove in Estill County, and was the daughter of the late James and Lillian (Wilson) Killian. A son, David James Rose, preceded her in death. In addition to her husband of 57 years, she is survived by two sons Philip Glenn and Timothy Glenn both of Lexington, a granddaughter Sarah Caroline, brother James W. (Helen) Killian, and a host of loving relatives and friends.
Patsy graduated from Estill County High School in 1961 and Eastern Kentucky State College in 1965 and taught Math in the Fayette County Public Schools for three years. She was a 55-year member of Gardenside Christian Church, where she was an organist and pianist for 40 years and was also a Youth Sunday School Teacher for many years. Patsy often played the piano for son Philip's solos, some of which she wrote and composed in her later years. She was a member of the Bluegrass Council of the Blind and often baked goodies for their meetings. She also volunteered, by playing the piano, for various groups, including Sayre Christian Village Nursing Center and Cedarhurst Senior Living in Lexington. She provided a card ministry and frequently entertained relatives and friends at her home.
A Celebration of Life Visitation and Service will be at the Warren F. Toler Funeral Home in Irvine on Friday, Sept 30 from 10:00 am till noon followed by Funeral Services at noon. Interment will follow the Service at the nearby Sunset Memorial Gardens at West Irvine in Estill County, close by to her childhood home. Ministers Charles Delaney and Gregory Herriford will officiate.
In lieu of flowers, expressions of sympathy are suggested to the Bluegrass Council of the Blind, 1093 South Broadway, Suite 1220, Lexington, KY 40504 or the Central Kentucky Radio Eye, 1733 Russell Cave Road, Lexington, KY 40505.