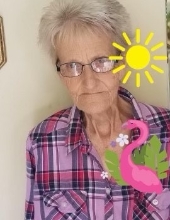 Obituary for Patricia Joy Bowles
Patricia Joy Bowles, age 75, of Winchester Road in Irvine, passed away Saturday, March 4, 2023, following a long illness. She was born August 27, 1947, in Estill County, and was the daughter of the late Eugene Horn and Addie Mae Brandenburg Horn. She was a Homemaker and attended the Friendship Baptist Church. She had lived in Estill County all her life. She was preceded in death by her former husband, Elmer Bowles, and she is survived by:
2 daughters: Tammy Doty Noe (Carol Lee Lauderdale) - Estill Co.
Misty Michelle Bowles (Bruce Kelley) - Madison Co.
2 brothers: Roy Horn - Fayette Co.
Alonzo Horn - Colorado
3 grandchildren: Brittany Doty Miller (Chris)
Boone Raydan McIntosh
Addie Madison Winkler
Special Friend: Billy Dennis
Funeral services will be conducted Thursday, March 9, 11 AM at the Warren F. Toler Funeral Home Chapel. Burial will be at the West Irvine Cemetery. Visitation will be held on Wednesday from 6 to 9 PM at the Funeral Home.
Pallbearers: Carol Lauderdale, Price McIntosh, Boone Raydon McIntosh, Zack Dennis, and Bruce Kelley