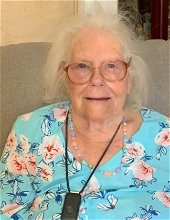 Obituary for Pairelee Hardy Angel
Pairelee Hardy Angel, age 87, of Richmond Road in Irvine, passed away Sunday, April 30, 2023, at the Marcum & Wallace Memorial Hospital following a long illness. She was born May 7, 1935, in Estill County and was the daughter of the late Millard and Hallie Mae Ebson Johnson. She was a homemaker and attended the Holiness Church. She had lived in Estill County all her life. She is survived by:
1 daughter: Maggie Oliver - Irvine
3 sons: Orville Wayne Hardy - Irvine
James Lee (Cheryl) Hardy - Irvine
Cecil (Celina) Hardy - Irvine
16 grandchildren: Lois Brinegar, David Oliver, Charlena Hardy, Michelle Bowlin, Sheri Grace, Shannon Hardy, Kevin Hardy, Angela Estes, Lori Hardy, Daniel Rose, Keisha Hardy, Steven Richardson, Scott Plowman, Kim Tipton, Casey Hardy, and Chynna Hardy
Several great grandchildren and great-great grandchildren for a total of 53 grandchildren
She was preceded in death by her husbands, Leon Hardy and Harlan B. Angel, 3 sons, Donald Ray Hardy, Gary Hardy, Bobby Hardy, 7 brothers and sisters, 2 grandchildren and 1 great grandchild.
Funeral services will be conducted Wednesday, May 3, 12 PM at the Warren F. Toler Funeral Home Chapel with Bro. Sidney Sparks and Bro. Phillip Smith officiating. Burial will be at the Hardy Cemetery. Visitation will be held on Wednesday from 10 AM to 12 PM.
Pallbearers: David Brinegar, Dallas Bowlin, Kevin Hardy, John Buckland, Gary Grace, and Mason Grace