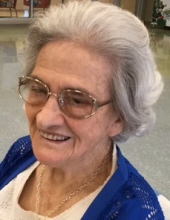 Obituary for Oma Sawyer Osborne
Oma Sawyer Osborne, age 93, of Riddell Court in Irvine, passed away Tuesday, October 4, 2022, at her home following a long illness. She was born March 23, 1929 in Perry County and was the daughter of the late James Sawyer and Nancy Ann "Nannie" Riley Sawyer Becknell. She was a retired teacher with the Estill County School System and a member of the Ravenna Nazarene Church. She is survived by:
2 daughters: Janet Osborne - Berea
Elizabeth Ann (Earl) Price - Richmond
3 sons: Raleigh (Joyce) Osborne - Booneville
Farris (Beth) Osborne - Richmond
Michael (Debra) Osborne - Garrard Co.
12 grandchildren and several great grandchildren
She was preceded in death by her parents, her husband, Ceyphus Osborne, her daughter, Regina Davis, 3 sisters, Elizabeth Grace Jordan, Nelle Thompson, Martha Mattingly and 3 brothers, Granville Sawyer, William Sawyer, Harlan Sawyer and 2 infant brothers, James Sawyer, Jr. and Manford Sawyer.
Funeral services will be conducted Sunday, October 9, 1 PM at the Warren F. Toler Funeral Home Chapel with Bro. Kenneth Felty officiating. Burial will be at the Osborne Family Cemetery. Visitation will be held Saturday, October 8, from 6 to 9 PM at the Funeral Home.
Pallbearers: Randy Osborne, Braden Davis, Carl Young, Chris Lunsford, Matt Edmiston, Frank Wise and Larry Davis