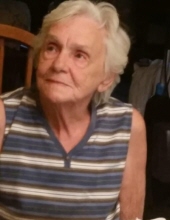 Obituary for Norma Bruce Jones
Norma Bruce Jones, age 84, of Old Ironworks Road in Winchester, passed away Saturday, July 24, 2021, at her home following a long illness. She was born August 21, 1936 in Powell County and was the daughter of the late Green Berry and Geneva Young Toler. She was a homemaker and attended the Trinity United Methodist Church. She had lived in Clark County most of her life. She is survived by:
Her husband: Larry Lee Jones
6 sons: Jonathan Toler (Jane) Jones - Clark Co.
Marcus (Aileen) Jones - Madison Co.
Stephen (Kelly) Jones - South Carolina
Jonathan Toler Jones, II - Clark Co.
Austin Cody (Katie) Jones - Clark Co.
Kirk Jones - Nevada
1 daughter: Tami (Bob) Hume - Fayette Co.
2 sisters: Laverne (Robert) Adams - Clark Co.
Dora (Jim) Watkins - Clark Co.
1 brother: Warren (Elizabeth) Toler, Sr. - Estill Co.
Several grandchildren and great grandchildren
She was preceded in death by her son, David Jones and 4 siblings, Margie Spencer, Shelby Toler, John Toler and Kelly Toler.
Funeral services will be conducted Wednesday, July 28, 11 AM at the Warren F. Toler Funeral Home Chapel by Bro. Warren Toler and Bro. Wayne Everman. Burial will be at the Clarmont Memorial Gardens. Visitation will be held Tuesday from 6 to 8 PM at the Warren F. Toler Funeral Home in Irvine.
Pallbearers: Bob Hume, Andrew Jones, J.T. Jones, Mark Jones, Stephen Jones and Cody Jones
In lieu of flowers, donations are suggested to Hospice East, 407 Shoppers Drive, Winchester, KY 40391.