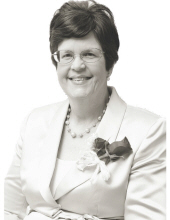 Obituary for Nancy Clay Stansbury
Nancy Clay Farris Stansbury sadly left us on December 1st, 2022, at the age of 68, following a diagnosis of uterine cancer earlier this year. She was surrounded by family in her home here in Las Vegas when she passed away.
Nancy was born to the late Anna & Thomas Farris in Ravenna, Kentucky, on Monday, July 5th, 1954. Her father was a bivocational pastor until his passing in 1964, which immersed Nancy in the Christian community that would be her lifelong support system from an early age.
She attended Ravenna Elementary, Irvine High School and graduated from Estill County High School in 1972. She earned her bachelor's degree in Elementary Education from Eastern Kentucky University, and then went on to earn her Master's degree in History, graduating from EKU in 1978. She accepted a teaching position at Victory Christian Academy in Louisville, Kentucky, where she taught high school for several years.
Nancy met Michael D. Stansbury at Victory Baptist Church and they were married there, in Louisville, Kentucky, on June 3rd, 1984. She resigned from teaching shortly after to raise her two children.
Nancy is preceded in death by her mother, Anna Evelyn Farris in 2005, and her father, Thomas Jefferson Farris, in 1964.
Nancy is survived by her husband, Michael David Stansbury; her daughter, Ruth LeAnn, and husband Caleb Hugh Sargent; her son, Andrew Thomas Stansbury; her brother, Robert Thomas Farris; her grandson, Gatlin Thomas Sargent, her granddaughter, Scotlyn Jaymes Sargent; her nieces, Jennifer Farris DeSpain, Robin Mae Farris, and her nephew, Thomas Clayton Farris.
Visitation will be held at 10:00 am, Saturday, December 17th, 2022, at Warren F. Toler Funeral Home with burial to follow at the Sunset Memorial Gardens.
Funeral services will be held at 11:00am on Saturday, December 17th, at Warren F. Toler Funeral Home immediately following visitation. Pastor Caleb Sargent will be officiating.