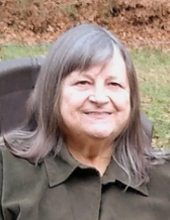 Obituary for Mildred Lee Arvin
Mildred Lee Williams Arvin, age 78, of Jakes Heavenly Hwy., passed away at home on Sunday, July 10, 2022 after a long illness.

Mildred, "Mickey" to many of her friends and family, was born at Drip Rock on August 27,1943, and was the daughter of Roy Beverly and Hannah Frances Williams. She was a homemaker in the truest sense of the word and a lifelong member of Drip Rock Baptist Church. Her faith and her family were her greatest treasures. She loved to read and write and contributed columns to the Citizen Voice and Times. She loved a good gospel hymn. She found beauty in the simple things and will always be remembered for her kindness and her faithful Christian witness. She will also be remembered as a great cook.

Mildred is survived by her husband of 59 years, John Dale Arvin; five children: Lisa Renee Arvin Bicknell (Robin), Pamela Jane Arvin Kirby (Tim), John Stuart Arvin, Gregory Albert Arvin (Amy), and Brent Curtis Arvin (Trista); grandchildren Hannah Simone Bicknell Eaton (Eric) and Chelsea Katrina Bicknell (Chris), Kayla Renee Kirby Wilson (Josh), Jeremy Jankowski, Amber Elaine Arvin, Audrey Lee Arvin, Roy Dale Arvin, and Brittney Arvin. She had five great-grandchildren: Clayton Cash Bicknell Eaton, Oaklee Mae Eaton, Miles Eaton, Ivy Kanaira Hoover and Finn Hoover.

She also had many nieces, nephews, in-laws, friends and neighbors that were dear to her heart.

Mildred was preceded in death by her parents, and she was the last of eight siblings to pass on. She was preceded in death by Eula Williams Brock, Hazel Williams Dodson, Bertie Williams Cox, Melvin Williams, Clyde Williams, Loretta Williams Brock, and Carl Dennis Williams.

Visitation will be at the Toler Funeral Home on Wednesday, July 13, from 11 a.m. to 1 p.m. The funeral service will be at 1:30 p.m. at Drip Rock Baptist Church with Bro. Kevin Chaney officiating and Bro. Sam Miller assisting. Burial will follow at the Sparks Cemetery.