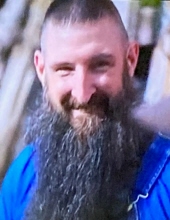 Obituary for Michael Shane Stallings
Michael Shane "Moonshine Mike" Stallings, age 46, of Patsy Road in Irvine, passed away Friday, October 14, 2022, at the University of Kentucky Hospital following a long illness. He was born January 5, 1976, in Jasper, Indiana and was the son of Anthony Roger Stallings and the late April Lynn Lyons Brisson. He was a master distiller, tattoo artist, copper worker, musician, Mason, Shriner, and woodworker. He was a U.S. Army Veteran and he had lived in Estill County for the last 20 years. He is survived by:
His wife: Sondra Gail Stallings
1 daughter: Madeline Carey - Michigan
1 son: Hendrix Briggs - Michigan
4 stepsons: Corey LeMaster - California.
Tyler LeMaster - Estill Co.
Steve Goosey - Estill Co.
Zachary Goosey - Estill Co.
1 sister: Amanda Dazley - Ohio
2 brothers: Patrick Stallings - Michigan
Scott Stallings - Michigan
1 stepbrother: Joey Brisson - Michigan
His step-father: Joe Brisson - Michigan
2 grandchildren: Austin Goosey - Estill Co.
Hailey Goosey - Estill Co.
Several nieces and nephews
Funeral services will be conducted Thursday, October 20, 11 AM at the Warren F. Toler Funeral Home Chapel with Bro. Scott Rogers officiating. Burial will be at the Cobb Hill Cemetery. Visitation will be held Wednesday from 6 to 9 PM at the Funeral Home.
Pallbearers: Jory Bowling, Joel Serdenis, Tyler Childers, Jason Flynn, Stevie Tipton, Scott Lane, Mike Hall, and Patrick Stallings