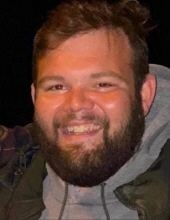 Obituary for Michael Kyle Stevens
Michael Kyle Stevens, age 34, of Leighton Road in Irvine, passed away Wednesday, November 9, 2022, at his home. He was born May 16, 1988, in Estill County and was the son of Karen Jean McQueen Stevens and the late Michael David Stevens. He worked at the Tutt Construction Co. and was a member of the Pistol Creek Regulators. He had lived in Estill County all his life. Survivors in addition to his mother include:
His grandparents: Dixie McQueen - Irvine
Lander and Stella Stevens - Irvine
2 brothers: Jaccob Daniel Stevens (Rachel Gooch) - Irvine
Phillip Paul (Majestica) Stevens - Irvine
2 nieces: Harper Grace Estes and Hadley Jean Stevens
He was preceded in death by his grandfather, William Paul McQueen.
Funeral services will be conducted Saturday, November 12, 2 PM at the Warren F. Toler Funeral Home Chapel with Bro. Alfred Webb officiating. Burial will be at the Hoover Cemetery. Visitation will be held Saturday from 11 AM to 2 PM at the Funeral Home.
Pallbearers: Jaccob Stevens, Phillip Stevens, Roy Stevens, Josh Stevens, Dustin Street, Jim Kelley, Zach Walker, and James Crank
Honorary Pallbearers: Gary Johnson, Jason Young