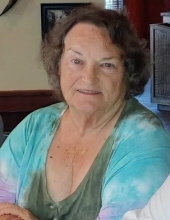 Obituary for Melba A. McQueen
Melba A. Wade McQueen, age 77, of Jodi Lane in Irvine, passed away Friday, February 25, 2022, at the Marcum & Wallace Memorial Hospital following a short illness. She was born November 1, 1944, in Kosciusko, Mississippi and was the daughter of the late Lester Curtis and Minnie Irvin Wade. She was a retired Accountant Clerk for the Estill County Health Department and had lived in Estill County since 1978. She was preceded in death by her husband, Tracy W. McQueen Sr., and is survived by:

3 daughters: Dawn E. McQueen Mortimer (Simon) - Laurel Co.
Kelley A. Harlow - Estill Co.
Susan A. McQueen - Estill Co.
1 son: Patrick E. McQueen - Boyle Co.
1 stepson: Tracy W. McQueen Jr. - North Carolina
8 grandchildren: William D. Harlow, Benjamin J. McQueen, Shelby D. Neal (Derrick), Jonathan L. McQueen, Connor D. Harlow, Stephen D. McQueen, Caidan P.T. McQueen and James D. Harlow
1 great grandchild, the light of her later years, Lara Marie Neal.
Her beloved dog: Saint Cyrilla

In addition to her parents and husband, she was preceded in death by 1 half-sister, Patricia Mangrum, 1 brother, M.C. Wade, 2 half-brothers, Charles Tisbury and W.M. Tisbury and 1 foster sister-in-law, Katherine Canter.

A memorial service is scheduled for a later date. The Warren F. Toler Funeral Home is in charge of arrangements.