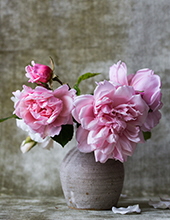 Obituary for Mayme Kirby Dawes
Mayme Lou Kirby Dawes, age 75, of Rice Station Road in Irvine, passed away Wednesday, December 16, 2020, at the Compassionate Care Center in Richmond following a long illness. She was born April 27, 1945 in Estill County and was the daughter of the late Millard and Maggie Johnson Kirby. She was a homemaker and attended the Valley View Baptist Church. She was preceded in death by her husband, Kenneth Dawes and is survived by:
2 daughters: Paula Dawes (Shannon) Snowden - Louisville
Diane Dawes (Ricky) Harris - Irvine
1 sister: Christine Kirby - Irvine
1 granddaughter: Olivia Lavryn Snowden
1 step-grandson: Andrew Snowden
She was preceded in death by 3 sisters, Nannie Jean Melton, Pauline Melton and Cleo Kirby.
Visitation for the public will be held Friday, December 18, from 11 AM to 1 PM at the Warren F. Toler Funeral Home. Private funeral services will be held by Bro. Willie Gordon with burial at the Sunset Memorial Gardens.