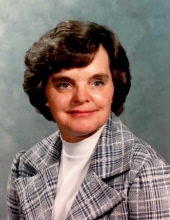 Obituary for Mayfra Isaacs
Mayfra Isaacs, age 88, of Stacy Lane Road in Irvine, passed away Sunday, July 10, 2022, at the Marcum & Wallace Memorial Hospital following a short illness. She was born May 13, 1934, in Estill County and was the daughter of the late Lewis and Able Young Williams. She was a retired Phillips Lighting employee and a member of the Old Time Baptist Church. She had lived in Estill County all her life. She was preceded in death by her husband, Earnest Isaacs, and is survived by:
Her son: Earnest Ray Isaacs - Estill Co.
1 brother: Wesley Williams - Estill Co.
2 half-sisters: Jean Marshall - Madison Co.
Violet "Tuffy" Davenport - Pulaski Co.
2 half-brothers: Douglas Williams - Estill Co.
Jimmy Lee Williams - Estill Co.
2 grandchildren: Jacob Ray Isaacs and Daniel Ray Isaacs
1 great grandchild: Emma Faith Isaacs
She was preceded in death by her husband, her parents and 1 brother, Samuel Bo Williams.
Funeral services will be conducted Saturday, July 16, 11 AM at the Warren F. Toler Funeral Home Chapel with Bro. Keith Carr officiating. Burial will be at the Young Cemetery. Visitation will be held Friday from 6 to 9 PM at the Funeral Home.

Reference date of the photo is March 12, 1982.