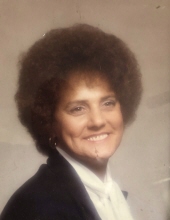 Obituary for Mary O. Nordmeyer
Mary O. Nordmeyer, age 78, of Stevens Avenue in Irvine, passed away Friday, March 26, 2021, at the Irvine Nursing & Rehabilitation Center following a long illness. She was born March 22, 1943 in Estill County and was the daughter of the late Hubert and Myrtle Bishop Murphy. She was a homemaker and member of the Providence Baptist Church. She had lived in Estill County most of her life. She was preceded in death by her husband, William G. Nordmeyer. She is survived by:
1 daughter: Annette Moore - Estill Co.
3 sons: Farris Marcum - Estill Co.
Farrell Marcum - Estill Co.
Tony Marcum - Indiana
1 step-son: Bill Nordmeyer - Indiana
3 sisters: Marie Dixon
Laura Stone
Patricia Edmonson
2 brothers: Scotty Murphy
Kenneth Murphy
12 grandchildren, several great grandchildren
She was preceded in death by 6 siblings; Beulah Murphy, Earsel Kerby, Jeweldean Mansfield, Herbert Murphy, Cecil Murphy and Earl Murphy.
Visitation for the public will be held Monday, March 29, from 10:30 AM to 1 PM at the Warren F. Toler Funeral Home. Private funeral services will be conducted by Bro. Randy Marcum and Bro. Wendell Amburgy with burial at the Sunset Memorial Gardens.