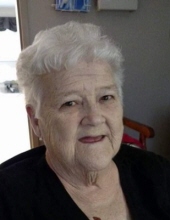 Obituary for Mary Gladys Powell
Mary Gladys Powell, age 82, of Pitts Road in Ravenna, passed away Monday, July 12, 2021, at the Irvine Nursing & Rehabilitation Center following a long illness. She was born July 5, 1939 in Estill County and was the daughter of the late Dan and Viola "Sug" Rawlins Riddell. She was a homemaker and had lived in Estill County all her life. She was preceded in death by her husband, Harvey "Huckleberry" Powell and is survived by:
2 daughters: Lisa Sparks - Ravenna
Gina (Christina) Powell - Irvine
2 sisters: Patty Gray - Flemingsburg
Judy Gray - Flemingsburg
1 brother: Letcher Walling - Flemingsburg
6 grandchildren: Dan (Sarah) Sparks, Shawn (Gina) Sparks, Tristan Lambert, Austin (Siearra) Wells, Jessalyn Wells and Stephen Wells
3 great grandchildren: Landan Sparks, Trenton Sparks and Ashton Sparks
She was preceded in death by her daughter, Terri Kaye Powell and her son-in-law, Tommy Sparks.
Funeral services will be conducted Friday, July 16, 1 PM at the Warren F. Toler Funeral Home Chapel with Bro. Chris Coffey officiating. Burial will be at the West Irvine Cemetery. Visitation will be held Friday from 11 AM to 1 PM.